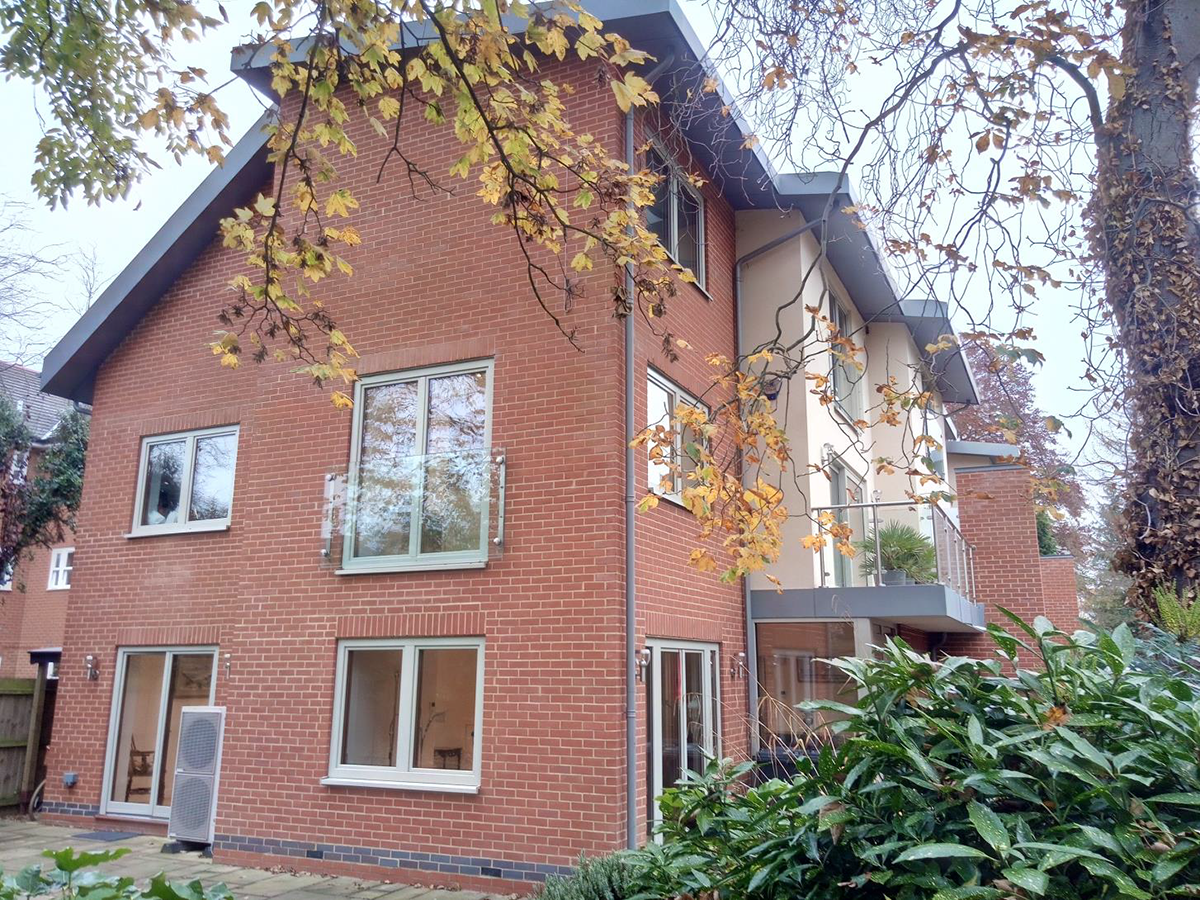 The Challenge
When energy infrastructure engineer James Martin opted to build his own forever home, as you might expect he did a lot of research into the most efficient heating solutions and drew up a detailed specification.
One of his primary objectives was to optimise the use of an Air Source Heat Pump to provide heating and hot water cost effectively.
James explains:
"I work in the energy business so know that primary fuel costs are inevitably going to rise. So the first priority was to build one of the most highly insulated and airtight houses in Cambridgeshire but high tech systems are subtly concealed within quality, traditional materials. We used brick and block; copious modern insulating materials in thick walls, floors and roofs; mahogany framed triple glazed windows and solid 18mm thick natural oak parquet floors on the upper 2 storeys of the 3 storey house."
"Heat pumps usually need underfloor heating to bring enough warmth into the room at their lower circulating water temperatures. However real wood parquet is not compatible with underfloor heating because it will move and warp. I also knew that the physics of heat transfer means that even an artificial laminate or carpeted floor would slow the responsiveness of underfloor heating. That would waste precious energy by forcing us to keep rooms at a steady comfortable temperature even when unoccupied. So I searched for an underfloor heating alternative."
Top of the rather short list of options was 'ThermaSkirt – the skirting board that heats your home'
The Solution
ThermaSkirt is an aluminium radiant panel, disguised as a skirting board profile. Available in a 'wet' central heating version as well as direct electric, when warm it uses infra-red to radiate heat into the occupied space. Combining the radiator and skirting board in one, not only saves space, it can also save cost as it effectively provides two building elements in one.
James goes on:
"I was surprised I hadn't heard of it before but reading all the specifications it made perfect sense. Its aluminium for a start so it's more effective at emitting heat than a steel radiator, it distributes the heat all around the room from low level, and the surface area means it can run at lower temperatures. Plus, as its above the flooring, I could choose whatever finish I liked and it would work just as well'".
In the Cambridgeshire home, James opted for a Samsung 16KW air-to-water heat pump, combined with their thermal store that can take heat energy from a variety of sources if required.