Combating Acquired Infections in Healthcare & Assisted Living
Heating occupied spaces in a healthcare or assisted living environment is a challenge for many healthcare operators, developers and housing providers. With the recent outbreak of Coronavirus, the impact of hygiene as a way of preventing the spread of infection has been dragged centre stage, with new guidelines for education, public transport and indeed around the average home.

In particular, the elderly, and those already fighting illnesses's are particularly vulnerable. Persons suffering with Alzheimer's and dementia are less able to take care of themselves, and so inevitably the burden of reducing the spread of infection, falls onto their care providers who are already stretched to breaking point.
LST (low surface temperature) radiators have long been the default solution for many decades, but recent initiatives in infection control have highlighted that their grilles slots and internal spaces as a major breeding ground for healthcare acquired infections (HAI's) such as MRSA & C.Difficile. With the Coronavirus being a similarly air borne infection and one that also can survive on hard and warmed surfaces for some time, the need to increase the frequency of disinfection can be the difference in preventing an outbreak in a closed environment like a care home or assisted living facility.
Hard pressed cleaning and maintenance staff simply don't have the time to comply with AHCP (Association of Healthcare Cleaning Professional) Guidelines that stipulate that radiators and covers should be deep cleaned at least every month. The Department of Health Cleaning Guidelines for the NHS states that radiators should be thoroughly cleaned at least once a week, including regularly behind and by removing of covers if required.
Not only would this be difficult to achieve in a busy ward, or rooms where there are patients with dementia or challenging behaviour, but it may also require more than one person to remove the protective covers and store them safely during cleaning,
In addition, anti-ligature radiators with their naturally tiny grilles, have found not even to be LST (low surface temperature) at all, due to their poor air circulation and high internal operating temperatures.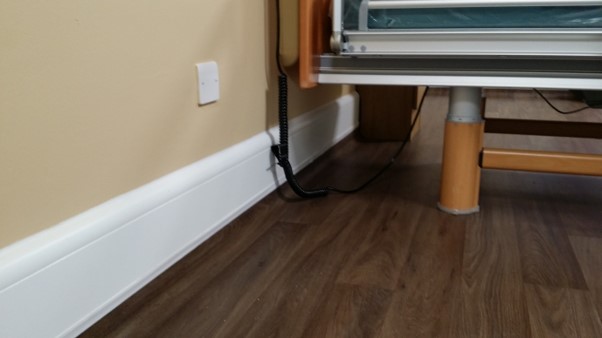 There has been a trend towards underfloor heating (UFH), but the initial headlong rush has slowed as controllability and thus overheating has been shown to be a trigger for challenging and potentially violent behaviour in persons with severe autism or dementia. In addition, issues during construction such as installation time, curing and drying, temporary heating and the risk of failure have seen several major specifiers opt for 'EasyClean' Skirting Heating instead. Similarly, retrofitting UFH into an existing care facility is a practical impossibility, so for many operators they seem trapped in servicing, cleaning and maintaining energy inefficient and hard-to-clean LST radiators.
Until now...
The 'EasyClean LST' version of ThermaSkirt is a safe, practical, cost effective and energy efficient alternative to LST radiators and underfloor heating. Developed in co-operation with the NHS, several national care home providers and the Design in Mental Health Network. Integrating the heating into a radiant skirting panel provides the comfort of underfloor heating with the controllability of a radiator without the installation, cleaning and maintenance issues.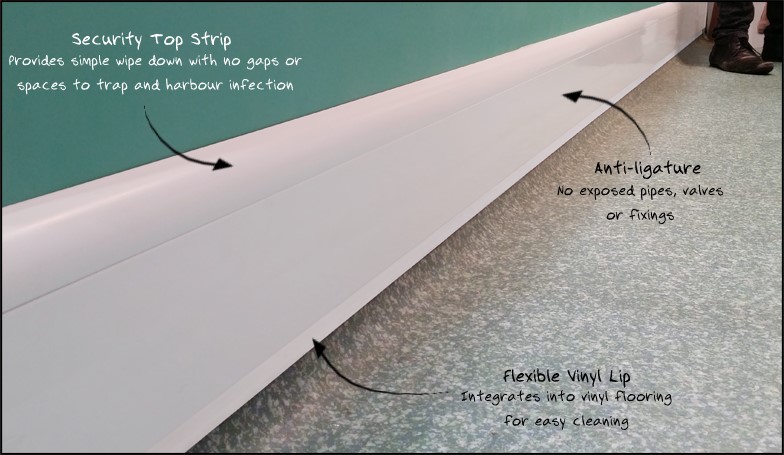 Ideal for Hospitals, Care Homes, Mental Health and secure accommodation, the EasyClean LST incorporates a flexible vinyl lip for complete integration into vinyl floors and a hygienic tamper-proof top that seals to the wall.
This allows the heating system to be thoroughly cleaned when the floor is mopped without the need to lift and lower protective LST covers. More than 13,000 systems have been installed in the NHS, healthcare and assisted living projects.